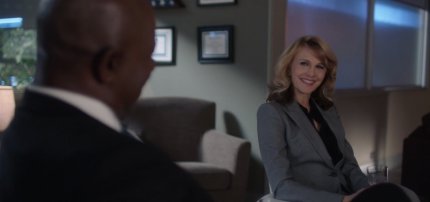 Reverie returned to US television screens last week after an absence for the American 4th of July holiday.  Sadly Kathryn did not feature in that episode so we had to wait an additional week for her to appear.
Right up front in 'The Black Mandala' we got a brief dose of Monica Shaw in the 'previously on…' section.  They used a clip from a previous episode to remind us of Ms Shaw's DoD connections as well as their significant stake in Onira-Tech, the company that makes the Reverie VR program.
In the new episode proper, when Monica turned up she was in full DoD mode, though I detected some discomfort with what she was saying.  Without giving away anything, I think Lilly would have been proud of Monica in the end, though not of all the drinking.  To use Alexis's (Jessica Lu) word: she was 'bad-ass'.  Or maybe that should be 'good-ass' 😉
There are now just over 100 new HD (720p) screencaps from episode 7 of Reverie in the KM UK the Gallery.