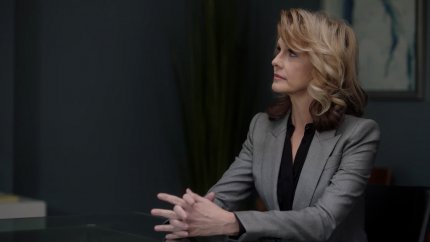 So, where were we?
Oh yes, Reverie image updates as part of KM UK's sort of annual Summer Of HD for 2019.
The last episode we looked at was number 5.  During its run in 2018, Reverie took a week off for the July 4th holiday period and Kathryn wasn't in episode six.  All of which means we return to this after a few weeks off ourselves.
We got quite a lot of Monica Shaw in this one.  She was key to the plot after Mara (Sarah Shahi) finds a boy in a VR world who claims he is being held against his will accused of being a terrorist.  The DoD is clearly making use of the mind entering technology outside of the Onira-Tech company, without the crew's knowledge.  Is Monica allowing this?  Can she stop it?  Does she want to?
The mandala of the title is a spiritual symbol.  The VR program uses symbols as emergency exit points if the normal methods fail.  The use of the word 'black' could well be a reference to secret military 'black sites'.  Put the two together and you've possibly got the hint that this is a sign of the dark uses of the tech.
Nearly 130 new full HD (1080p) screencaps have been added the Gallery. And, the single promo photo (below right) we have for this episode has also been increased in size a little.