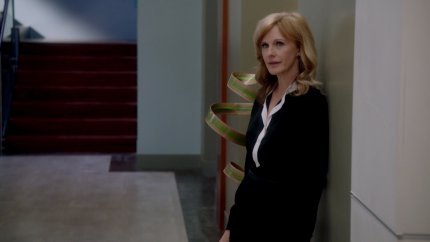 Week of two of KM UK's Summer Of HD 2019 brings us predictably enough to episode 2 of the series Reverie.
Kathryn as Monica Shaw made a similarly brief appearance as in part one but she was less enigmatic.  Totally by chance, you understand ,-) Monica and Charlie (Dennis Haysbert) bump into Mara (Sarah Shahi).  You get the impression that very little happens in Monica's world that isn't in her control.
As well as helping to prop up the infrastructure (see above) we also get a wonderful reprise of the sunshine that is Kathryn's smile (see below left).
No new/updated promo photos this time but we do have a new set of full HD (1080p) the episode titled 'Bond. Jane Bond' in the KM UK the Gallery.