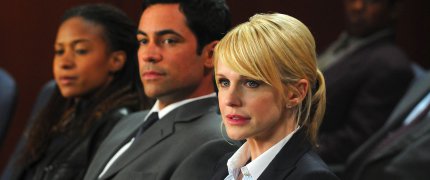 For those lucky enough to have access the Cold Case season 7 première airs in a couple of weeks time on Sunday 27 September 2009 in America.  It's very close now!
It will be broadcast at the later time of 10pm, having been shown at 9pm for the past few season.  For the early seasons it was 8pm.  Those of us hoping the later hour might allow a bit more… err… "racy content" are likely to be disappointed

  I guess the "rompage in rampage" will have to do

No word yet on when Sky in the UK intend to start showing it.  I believe they've only just finished airing season 6.
This is not a Cold Case site as such, and I won't be posting spoiler type news very often, but after the jump there are some general notes, gleaned from various sources, on some of the things we can expect to see in the early part of season 7.  They are spoilers so if you do not want to know anything don't click the Continue Reading link below.
A short promo video for season 7 can be found in the Gallery, courtesy of SpoilerTV.
Update: 2 stills from episode 1, The Crossing, have been added to the Gallery.
Continue reading »