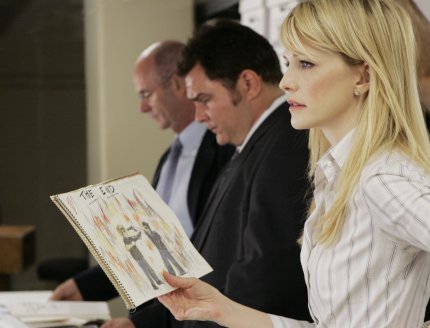 We ended the season 3 retrospective very strongly with an amazing set of new full HD screencaps from 'Joseph', so we thought you'd want a bit of break to calm down.
To ease you back in gently (no sniggering at the back!), we start the 'Cold Case 15 years on' series with a single new promo photo from the first episode of season 4, 'Rampage'.  The 24th of September 2006 was when this one first aired in the US.
'Rampage' was, for many, their first introduction to the actor Kyle Gallner as one of the two teenagers that embarked on a school shooting.  Kathryn and Kyle's working together five years later was very different.
The full-sized version of the image you see above is now to be found in KM UK's stuffed to the gills, image Gallery.  It's the 4th in the set.