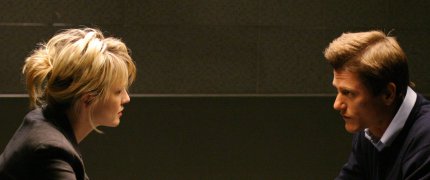 See that guy in the middle in the photo below?  That's Danny Pino.  I think you already knew that though.  It is not much of a stretch to assume you did.
It was this episode, number six in the first season of Cold Case, that we were introduced to Detective Scotty Valens.  He replaced the Chris Lassing character, as played by Justin Chambers (Grey's Anatomy), who was Lilly's cop partner in three of the first four episodes.
Speaking of partners we also got an initial brief glimpse into Lilly's life outside work, though this peach doesn't stray far from the tree, as we meet her beau Assistant District Attorney Kite (Josh Hopkins, Quantico).
Anyway, 'Love Conquers Al' involves the case of a high school athlete killed twenty two years earlier in 1981.   Summer Glau (a regular in Joss Whedon's work such as Angel, Firefly, and Dollhouse) was that runner in the flashbacks.  Her then boyfriend, the titular Al, was jailed for the crime. The previous week's episode was called 'The Runner', someone on the production must have on a get fit kick.
The other man in these new photos is the actor Vincent Ventresca (Fun Bobby in two episodes of Friends, and lots of other things, including Dollhouse).  His Bennett Cahill wasn't so fun in this.  Now a successful doctor, Bennett's past catches up with him.
For this latest update in our series we have 3 new promo images from this episode. Run them down (see what I did there?) in the KM UK Gallery.