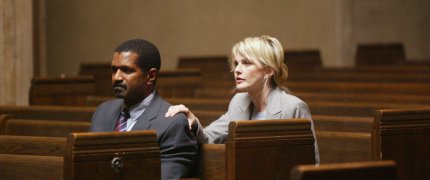 There's a phrase/idiom in English: "having your collar felt".  It means to be arrested and probably relates to the idea of a police officer grabbing a ne'er-do-well by the collar to hold them still whilst questioning them.
Although not strict 'by the collar' Lilly is very much acting out the phrase in the photo above.  She's got her man.
Sorry for the spoilers but it has been 15 years since 'The Runner', episode 5 of Cold Case's first season, so you've had more than enough time to find out who did it.  It's that guy!
Continuing our CC photo updates on the same date as the original airing plus 15 years, we have 3 new large promo images from 'The Runner'.  They are now in the KM UK Gallery.