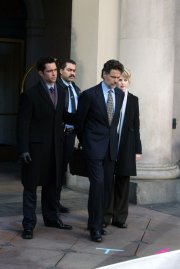 Who fancies a look at some new Cold Case promo photos?  Any… volunteers?
*cough* Moving on…
As we're following the schedule of the original US airing of Cold Case season one, posting these updates on the same date (plus 15 years), the Sunday had shifted to Friday.  At least it has until now.  As you may have noticed, it's Thursday.  Must be those cheeky leap year extra days on the end of February moving things.
The 'Volunteers' (episode 16) story took things back to 1969 for a case revolving around the murder of two people working for an underground abortion service.  Rather than focus on that side of things I'll look at the other side of the fiction.
A lot of CC episodes have a guest star.  'Volunteers' had more than most though.  Often the actors in these small roles go on to become household names (see Jennifer Lawrence in S04E18, 'A Dollar, A Dream').  Amber Benson, better known as Tara on Buffy The Vampire Slayer, picked up this gig a couple of years BTVS finished.  Maggie Grace of Lost fame had one of her earlier roles in this one.  In the same year that Katee Sackhoff came to the attention of the wider world in the (then) new Battlestar Galactica series, she turned up in the flashbacks in 'Volunteers'.
This episode also marked the first appearance in the show of Scotty's troubled girlfriend Elisa, played by Marisol Nichols (Riverdale).  It was certainly not Marisol's first major TV role but playing such a recurring character in a prime time show certainly won't have done her career any harm.  And, it was the second time we got to meet Louie Amante (Doug Spinoza) the explosives expert in the crime scene technicians.  His help was crucial in solving the case in 'Gleen' (ep 2) and he had such a great relationship with Lilly.  It was always a pleasure to have him back.  Surprisingly, he was only in 6 episodes across the whole show's run.  The last time we saw him was at his own wedding in season 7.
This little update is brought to you by the number 5.  That's how many new promo photos we have for you today.  Count them.  1 promo photo.  2 promo photos.  3 promo photos.  4 promo photos.  5 promo photos.  Mwah ha ha ha.  And where will you find these new images?  Down Sesame Street of course.  Not really.  They're in the Gallery as you already guessed

You will notice in the photo shown above that the image was clearly supposed to be cropped before usage, as you can see the stage direction marks on the floor.  As they re-film the scene with the flashback actor in place (see below right) they have to match their movements and positions reasonably accurately to make the transitions look right.  TV magic.