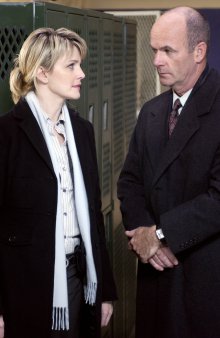 As episode titles go 'The Lost Soul Of Herman Lester' is, well, not exactly the catchiest.  It doesn't exactly trip of the tongue and gives you few clues as the nature of the plot.
We continue are look back at Cold Case season 1, posting new promo photos on the same day as the original episode transmission.  Albeit with 15 years added on.
Sunday the 14th of March 2004 was the date episode 17, 'The Lost Soul Of Herman Lester', first aired.  The plot was featured the 1987 murder of a promising high-school basketball player, the titular Herman Lester, as played by Mehcad Brooks.  This was one of Mehcad Brooks' early TV roles.  He has since gone on to feature in Desperate Housewives, True Blood and most recently in Supergirl.
One of the features of the Cold Case flashbacks was to invoke the time period with the a soundtrack of music heard in that era.  The show was very good at getting to use significant songs by big artists, though it is often said that the rights issues it caused prevented a DVD release.  Seemingly, the deals were not done with that in mind, or they were deliberately excluded to cut costs.
'The Lost Soul Of Herman Lester' is no exception with a very strong line up of songs across the duration.  In the order they are heard in the episode the tracks are:
'Walk this Way" by Aerosmith with RUN-D.M.C.
'Word Up" by Cameo
'Big Time" by Peter Gabriel
'Niggaz Wanna Act" by Mase
'Push It" by Salt-N-Pepa
'Don't Give Up' by Peter Gabriel and Kate Bush
'Walk Like a Man' by Bruce Springsteen
That's the basis of a good compilation album right there.  Something for everyone into the popular music of the time.  For those of us of a certain age…  A real 'Now That's What I Call Music '86-'87'.  Some really great songs.  Peter Gabriel's album 'So' gets a double outing with 'Big Time' and 'Don't Give Up'.  Two very different songs are from a brilliant album.  If you want spend a worthwhile few minutes check out the various music videos on YouTube, some of which showcase the ground-breaking work of Aardman Animations (of Wallace & Gromitt fame).
With his obvious connections to Philadelphia it is no surprise that Bruce Springsteen turned up on Cold Case several times over the seasons.  Memorably, '8 Years' (season 2, episode 11) was one of a handful of episodes that only featured a single artist.
Where was I, oh yes, images. The episode title might be long but, sadly, the number of new promo photos I have to bring to you today is not.  Just the one you can see above.  It is now in the the Gallery in it's glorious full size.