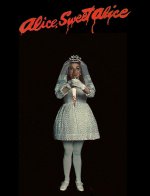 Website The Inquisitr.com reported yesterday (15th April 2013) that Kathryn has been cast in a lead role in a remake of the 1970s horror film Alice Sweet Alice.
Also, Kathryn's production company Revival House will be co-producing along with the company that manages her career, Mosaic Media Group.
The original Alice Sweet Alice (aka Communion) was a 1976 film by director/writer Alfred Sole and writer Rosemary Ritvo.  The plot involved the murder of a young girl called Karen and the suspicion that her older sister Alice was responsible.  Further deaths occur and Alice is increasingly thought to be the killer.  It starred Brooke Shields (Suddenly Susan) in her first film role as Karen and Paula E Sheppard as Alice.  Linda Miller (The Mississippi) was Catherine Spages, the girls' mother.
Kathryn is described as taking the role of the mother, Catherine.
New Jersey born Dante Tomaselli has been working on remaking Alice for some time with a teaser poster being released last October.  He wrote initial drafts of the script and brought in Michael Gingold of Fangoria Magazine to co-write the screenplay. Dante will be directing.  Dante has four feature films to his name, all in the horror genre.  What else could a man called Dante do but make horror films?
It looks like Alfred Sole (now a production designer on Castle) was responsible for getting Kathryn involved.  She agreed to executive produce and brought Mosaic Media Group to the table.  They are, apparently, targeting a cinematic release of the remake.
Dante gave an interview to the Aric Mitchell at the Inquistr website, which is where news of this development first broke.  You can read Aric's piece in full HERE.  Aric has a lot of connections to the original film himself.
When asked about casting Dante said:
Kathryn Morris will star as Catherine Spages, Alice's mother. Kathryn was the lead in the CBS series Cold Case and had a role as Tom Cruise's wife in Steven Spielberg's Minority Report. She's like a chameleon — totally versatile. Slips right into a role. Her character in Alice is modelled after the original Catherine Spages, played by Linda Miller. In keeping with the spirit of the original, Kathryn's character will look and feel similar, strikingly beautiful, perfectly sculpted dark hair, fiercely protective of her children and plagued by deep Catholic guilt.
The casting of the other roles has not yet taken place.
The trailer for the 1976 film, for some reason with the different name of Holy Terror, is included in the article.  It seems to be trying to suggest that Brooke Shields is Alice, and pretty much saying that Alice is the killer.  The first is not true and the second…
What we don't know at this stage is the timing of the production.  Kathryn clearly has other things to deal with at the moment including babies and a possible TV show due for delivery in September of this year.  If Surgeon General goes ahead with a full season order then it could be next year before she has enough free time to make a film.  It is quite common for actors tied to series to use the short time in the summer between filming seasons to take on other projects like film roles.  These projects can take a while to get off the ground and such time scales are common.
Hopefully we'll hear more on this soon and can look forward to another very different role for Kathryn, both in front of and behind the camera.  And, it is good to see that Kathryn's production company Revival House is alive and well.
The trailer and some concept art images are now in the Gallery.
Thank you to Kathy for the heads-up.