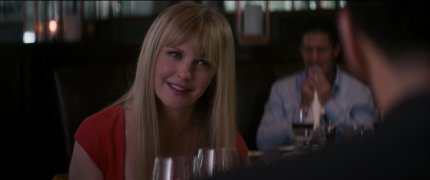 Looking at just the screencaps now in the Gallery of Kathryn in The Perfect Guy you get a slightly different take on the film.
You see a film that could be called 'Annoying Friend'.

You are Karen (Kathryn).  It's your 10th wedding anniversary.  All your friends, including Leah (Sanaa Lathan) and her boyfriend Dave (Morris Chestnut), are at your great house with a great pool in the hills of LA for a great party.  Your husband gives great speech about your lives.  Great.
Dave is a good guy.  He is good with your child but out of your earshot, as you've taken your son to bed, he ruins the moment by using the old "kids are good when you can hand them back to their parents" line.  You've spent much time with Leah in the past discussing Dave being unwilling to commit to becoming a husband and father.
As an aside it was good hear the line every parent has said at some point get an airing on the big screen: "say goodnight to everyone" followed by the child responding "goodnight to everyone."  The old ones.  The ones you've heard before.  A lot.

You know that Leah and Dave broke up on the night of your party, putting a damper on your memories of an otherwise lovely evening.  She made a point of giving you a full account.  Thanks Leah.
Months later, Leah tells you about her new boyfriend Carter.  His name is more interesting for a start so he's bound to be exciting.  On first acquaintance (image above) he's a little OTT (over the top) with a PDA (public display of affection) but turns out to be a very nice guy who lives up Leah's hype.  You nearly overstep the mark during the meeting with some rather personal questions but he takes them in his stride.  Perhaps he really is the one for Leah.
Leah doesn't contact you for a while because she's soooo busy with her new perfect boyfriend.  Until she asks to meet you for a drink.  She sounds a little worried about something but you still expect to sit through a lot of

"my boyfriend's dreamy, he's so handsome" etc. etc.  But no, she tells you a story about how Carter went psycho on some guy that was just talking to her about the car she was sat in.  You try to convince her to talk to Carter about his behaviour and tell her it was probably just a one off.
Radio silence from Leah again.  Another meeting, this time with another friend included.  Things do sound bad for Leah.  He's done things.  Creepy things.  Maybe this guy really is nuts.  She should seek help.
And that's the last you heard from Leah.  You thought of her the other day when you saw a news story about a body found shot dead in an apartment in the area where she lives.  Was deceased a man or a woman?  What was the name of Leah's building?
You're probably best rid of her.  She was hard work.

Kathryn's role in The Perfect Guy was more significant than I thought it would be.  Karen was always described as a friend of Leah and we saw a clip of the lunch meeting in the trailer.  It could easily have ended there.  Instead Karen was the the catalyst of Leah's initial breakup with Dave, part of the vetting panel that approved the new guy, the one that told her to stick it out with Carter, and then the leader of the "get out" committee.  That still doesn't add up to much air time but it could have been much less.
Also, I'm very happy to report that 'the smile' made several very welcome returns to the big screen.  Less white wine (she's holding a glass of the stuff in half the scenes) and more of the red dress (she's sat down most of the time for godness sake!) would have been good too

A set of Full HD (1080p) screencaps of Kathryn in The Perfect Guy are now in the Gallery.
The Perfect Guy is out on DVD and Blu-ray in America just after Xmas.  The US Amazon site has available for pre-order here.  No doubt the film's success will continue into the home market.