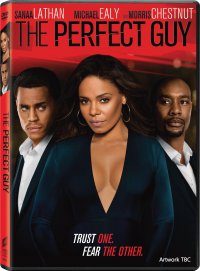 Looks like I'll have to file this one under 'Old News'…
In all the excitement I managed to miss the release of the thriller The Perfect Guy on DVD in the UK earlier this month.  The 14th of March to be more precise.
To be fair to me the Sony Pictures UK website doesn't seem to list the film.  Even the official YouTube channel for the conglomerate's division only added the trailer in the past few days.
There doesn't seem to be an accompanying Blu-ray option for those that prefer to do their film watching at home in full HD.  Some of you may be able to take advantage of releases elsewhere in the world, region coding allowing.
The DVD release of The Perfect Guy is available on the UK version of the Amazon website HERE.
I
n the way of a sweetener for the laxity in bringing this news to you I have added a new photo (as shown on the right) to the KM UK Gallery.  It is of Kathryn on the set of the film with the director David M Rosenthal and the child actor Duncan Joiner.  Duncan plays Zach, the son of Kathryn's character, who appears in the opening scene and helps set the ball rolling by making Sanaa Lathan's Leah think about having a child of her own, but her then boyfriend (Morris Chestnut) is unwilling to commit.