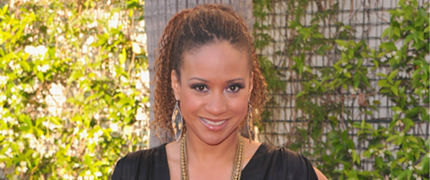 The early new year period is always likely to be a bit quiet on the show business news front, but we'll find a way to push through.  It's January 2019 and this is the latest of KM UK's round-up of news about the Cold Case cast and their on-going careers.
Let's start the year as we will almost certain continue it: by discussing Tracie Thoms (Kat Miller in CC) first of all.  Looks like we have some evidence of a new project Tracie is lined up to be involved in.  It is a film (I think) called 10-13 (the police code for shots fired) and is in pre-production with writer/director David Zayas.  David will be known to many of you for his acting work in things like Dexter (he was cop Angel Batista in the show).  Amazingly, I've found an interview from 2012 where David talks about undertaking the daunting task of translating 10-13 to the screen having written it as play for his own theatre company.  It shows how long these things can take.  Confusingly, that interview primarily talks about a film he was called 13, an American remake of a 2005 Georgian movie called 13 Tzameti (which is Georgian for 13).  Tracie is listed as playing 'Captain Romero', alongside Richard Kind (Spin City) and Mekhi Phifer (ER).  Despite more than 7 years having passed since this project was first mooted, it is still early days.  One for us to keep an eye as the year progresses.
It's the first post of a new year and we're already having to hark back to previous years.  Last January we talked about the drama series Gone, which starred Danny Pino (Scotty Valens in CC) as an FBI agent, getting a release in Germany.  In these days of global simultaneous releases and instant access to whole seasons Gone has… gone… a different route.  Despite being something of a pan-global production release dates were sparse.  Australia got the ball rolling in November 2017.  A première for it's home country has finally been made known.  Feb 27th on the WGN America network is the date.  9pm is the time.  There are 12 episodes of the NBCUniversal produced series.  Leven Rambin (The Hunger Games) and Chris Noth (The Good Wife) co-star.  Speaking of global releases I've just noticed that Mayans M.C., the sort of prequel to hit series Sons Of Anarchy, starts on BBC2 in the UK on Saturday (2nd Feb) night with 2 episodes back-to-back.