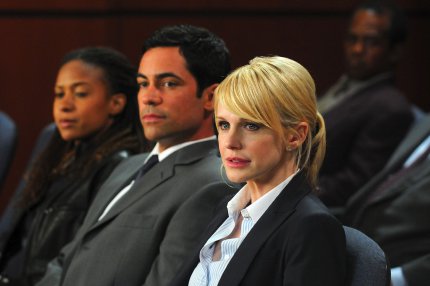 Reacting to the news that the NBC network in America is considering reviving The Office (the US version of course), Mark Perigard of the Boston Herald newspaper has put forward his own thoughts on shows that should be brought back.
Mark, the TV critic for the Boston Herald, has his misgivings about The Office but can understand the wish to return to past glories after the success of the recent new Will & Grace season, and the soon returning, already resurrected, The X-Files.
Continuing his article, Mark puts forward five other shows he thinks are worth considering.  Obviously based on the existence of this post and its title, Cold Case is one of them.  We'll come to that in moment, because visitors to this site may be interested to note two other choices Mark makes.
Cop drama The Shield is first up.  Our connection to that show is Danny Pino (Scotty Valens in CC) had a guest starring role in four episodes just before joining Cold Case.
Secondly we have Xena: Warrior Princess.  As Mark says, there have been talk of a revival of Xena in recent years but the plans came to nought.  Kathryn, of course, had a major role in two episodes of Xena as Najara.  It may only have been that double appearance but the character had a wider effect on the relationship between Xena and her side-kick Gabrielle.
Lastly Mark talks about Cold Case.  This is what he wrote:
A series that was a cut above crime procedurals, "Cold Case" (2003-2010) featured a group of Philadelphia detectives investigating murders unsolved sometimes for decades and featured moving flashbacks and the original music of the day, including Ray Charles, the Doors and Bruce Springsteen. "Cold Case" is also one of the few TV series that has never been released to DVD, allegedly because of the onerous issue of music rights involved. I think we would all feel safer knowing Detective Lilly Rush — and star Kathryn Morris — was back on the job.
Here, here.
KM UK did its own pitch for a new Cold Case season back in July.
You can read Mark Perigard's piece in full on the Boston Herald website HERE.