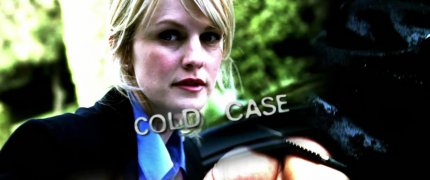 Regular readers might be questioning the need for a 'where are they now?' post as I already have the monthly Cold Case Cast Catch-up.  And you'd be right.  This is not about the cast.
There has been a lot of coverage recently of the San Diego Comic-Con event, even working its way over from more nerdy end of the blogosphere into the mainstream media.  No longer are the 'Cons' just about the niche entertainment genres.  As the Marvel and DC universes take over TV and movies and everyone plays computer games (yes you do!).
Seeing news about the various discussion panels, where cast members introduce new productions, got me thinking about the fact that Cold Case and its fans missed out on all that during its seven years.
So, if Cold Case did come back for an event series (as I made up in last year's April Fool post) seven years on what would the characters be doing now?  How would they bring them together for another case?  What would that case be?
Here's my take.
John Stillman (John Finn) – John has retired from the force.  He was on the verge of it when we last saw him.  He'd taken a lot of heat for the actions of his squad and was encouraged to leave early as a way of doing so one last time.  He finally got chance to spend his days fishing from his boat.
Will Jeffries (Thom Barry) – Like John, Will has also retired.  Jazz is his preferred time soak so the bars of Philly have been seeing a lot of our Will the past few years.  He's become a popular pianist for various musicians.
Nick Vera (Jeremy Ratchford) – After the dissolution of the cold case squad Nick went back to more up-to-date detecting.  There were always hints that Nick was an 'old-school' cop all too keen to use less than acceptable methods to get an arrest.  True or not, that reputation continued to dog his career so to avoid issues PPD kept him in roles he could do the least harm whilst still serving the community.
Kat Miller (Tracie Thoms) – As the only second female detective (after Lilly) in Philly homicide Kat continued to blaze a trail through the force.  She is now a senior detective heading up her own squad.  She had an offer to go back to vice with a promotion but due to having her daughter she didn't want to take the more risky job.
Scotty Valens (Danny Pino) – Much like Kat, Scotty is on the fast track within the police force.  After the cold case team split up he took up more senior role in a specialist crime squad in New York.  Scotty was often portrayed as a bit of a playboy but we know that he was devoted to his girlfriend Elisa (Marisa Nichols, Riverdale) and was lost without her.  Since his move to NY he's settled down.
Lilly Rush (Kathryn) – Lilly didn't take the FBI job that was significantly hinted at as Cold Case came to an end.  She just couldn't bring herself to leave the cases that meant so much to her.  With so many old cases closed (over 150 in 7 years!) PPD could not justify having a team permanently assigned to this type of work.  This has left Lilly to work largely on her own, calling on colleagues when necessary.
Re-convening the CC squad as we knew them would require a special case involving someone close to a team member, preferably someone we the viewers know well.  Lilly's mother or a returning killer like George Marks (from episodes Mind Hunters and The Woods) would be the obvious choices.
What would you want to see in a new Cold Case season?  Where would the squad be?  What case would bring them back together?  Leave a comment below.