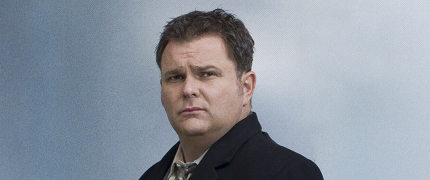 Nearly done for the year.  But before we get to December we have to close out November with the latest  look at the on-going careers of the rest of the Cold Case cast.  The ones that aren't Kathryn that is.
We don't often get to post about Jeremy Ratchford (Nick Vera on CC) so I try to give him top billing when the chance arrives.  There he is above, eyes drilling in to you.  Two weeks ago Jeremy had a guest starring role in the TV series Chicago P.D.  The show is one of the more recent creations by the prolific Dick Wolf and his production company.  Dick has been involved in crime-based TV since Hill Street Blues and was responsible for Law & Order and its various spin-offs.  Now he his adding to his collection with the Chicago set.  Chicago Fire has begat both Chicago Med and Chicago P.D. already there could well be another, Chicago Justice, on the way next year.  Jeremy was Jim in episode 7 of season 4, titled '300,000 Likes', of P.D. which aired on the 16th of November.
Another of our less regular regulars is Thom Barry (Will Jeffries in CC).  Back in August I reported on Thom appearing in a short film called Casting.  At the time I questioned whether a 20 minute film could be called a short.  It's more of a medium.  IMDb is now reporting the film is 39 minutes long making it what?  A medium plus?  The film is about the horrific and all too common world of human trafficking.  The official website now has an actually short trailer.  No change to the vague 2017 release date beyond a claim of 'coming soon'.
At this point I'd normally be quietly thanking Tracie Thoms (Kat Miller on CC) for being so active, giving me plenty to talk about and preventing more than a few of these posts saying just 'nothing to report'.  This month we need to be saying Get Well Soon instead.  Tracie, as reported in the past two CCCC-ups, is busy starring in the musical Falsettos which must be curtailing her TV and film work.  However, Tracie recently hurt both her ankles putting her out of action.  Stephanie Umoh is standing (sorry Tracie!) in for her on the boards.  In mid-January (the 11th & 14th to be precise) Tracie is doing one of her one woman shows at the Feinstein's/54 Below venue in New York.  Book early to avoid disappointment.
Also last month I mentioned a new Veena Sud (writer and producer on many episodes of CC) project called Seven Seconds for Netflix.   Since then additional cast members have been announced.  Raúl Castillo (Looking) and Zackary Momoh, a British actor currently to be seen in the movie A United Kingdom.