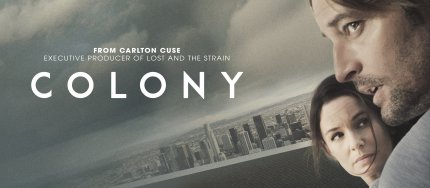 Waaaaaay back in March (remember then? happy times) in amongst news of Colony season one coming to the UK via Sky there was mention of Netflix acquiring the global rights.
At the time the streaming network was said to be making the sci-fi-ish drama series available to all subscribers early in 2017.
Well, Xmas has come early to sci-fi fans paying [insert correct amount here in local currency] per month to watch Netflix's bought-in and original shows.  Colony series one will be released on Tuesday (13th Dec 2016).
Kathryn guest stars in four episodes across the season, starting with number three.  She plays a wealthy art collector helping the invading aliens gather paintings from across Los Angeles.  As Charlotte she is also the wife of a political figure (Adrian Pasdar).
Season two of Colony is due to start in one month from tomorrow, with the first episode due to hit the USA Network on the 12th of January, as reported here last month.