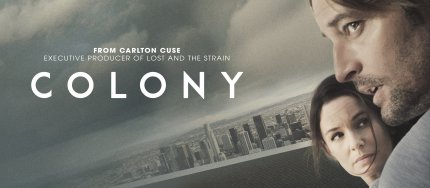 Thursday will be a busy day for the main cast and creators of the TV series Colony, as well as geeks in California.
Both the San Diego Comic-Con and Legendary Digital Networks (the production company behind Colony) own 'Camp Conival' events are happening this coming week.
The SDCC is a huge event covering all aspects of sci-fi and fantasy in TV, films, computer games and of course comic books.  There will be guests doing signings and interviews, and previews etc.  The event takes place primarily at the San Diego Convention Center starting on Wednesday (20th July) afternoon but things really get going from Thursday morning.  Sunday is the last day.
For an hour from 4:45pm the writers/producers Carlton Cuse (Lost) and Ryan Condal, and actors Josh Holloway (Lost), Sarah Wayne Callies (The Walking Dead), Adrian Pasdar (Agents Of SHIELD), Peter Jacobson (House) and Tory Kittles (True Detective) are all due to be taking part in a discussion panel.  They will be answering questions about the upcoming second season of the USA Networks sci-fi series.
Alongside the SDCC behemoth Legendary will be holding their own separate Camp Conival event at the Petco Park baseball stadium (presumably in the conference facilities rather than on the field) to showcase the large number of entertainment products they produce.  They are not some small company making the occasional series.  You will have heard of many of the pies they have their fingers in.   The aforementioned Agents Of SHIELD, other TV shows like Ash vs Evil Dead, computer game Call Of Duty, film Nerve, and a new Power Rangers movie due next year are all under their umbrella.  How often do you see a pie/umbrella mixed metaphor?
Yes, there is going to be another Power Rangers movie.  Who knew?  The young Rangers are largely unknown actors but heavyweights Brian Cranston (Breaking Bad) and Elizabeth Banks (Pitch Perfect) are the big names starring in other roles.  The lovely Elizabeth will be Rita Repulsa.  Not sure how she'll pull-off 'respulsive', but I'm willing to let her have a go 😮
The Camp Conival panel with the same people taking part is due at the earlier time of 1:15pm on the same Thursday.  That could be awkward for timing except for the fact that Petco Park (sponsors naming venues huh?) is right across the road from the San Diego Convention Center.  It's almost like they planned it!
The fact that Kathryn is not involved in either of these panels should not be taken as a sign of her not being in Colony any more.  They are only likely to invite the core cast.  Of course we don't know either way whether we'll be seeing her again as Charlotte the art collector.  We last saw her being taken away for keeping the best stuff for herself.
If you are able to attend either event on Thursday then be sure to ask repeatedly if Kathryn will be making a return to the show and let us know the answer.
The Comic-Con event website is here.