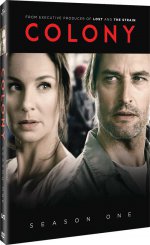 It's been a bit of a Colony-fest here on KM UK the past few weeks.  Well, you know what us Brits are like with our colonies.  We can't let them go.
After the US season one release of the sci-fi-ish drama series Colony on DVD last week, and the recent UK broadcast of the show on Sky, it was only a matter of time before we got the discs over here.
The Amazon UK website has now got the home release listed for 16 January 2017.
Saywhatnow?  THE 16th of January, 2017?  As in next year?  Around the time the second season starts in America?  That's taking the mickey isn't it?
Presumably it is part of the deal done for the broadcasting of season one and two and hopes to maximise revenue for both Sky and the production company.  It will allow the promotion of the boxset on the back that for the new run soon afterwards on TV.
Or, it is a six months hence guestimate by Amazon that will be corrected nearer the correct time when it is know.
Either way HERE is link to the online retailer's webpage for the Colony season one DVD so you can pre-order it if you wish.  At the time of writing the price is £24.99 (~$33 at the current rate).  That's possibly another place-holder which will be changed later.  Submit your purchase before release and if the price drops, as it likely will, you'll pay the lower amount.
I'll let you know if anything changes substantially.