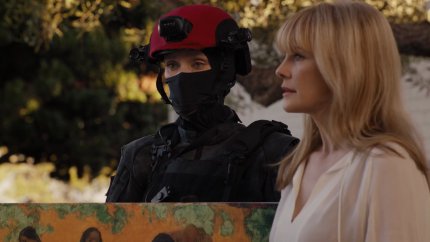 Tomorrow is 'zero day' for Colony season 1 being released on DVD in America.  To celebrate this event KM UK has been running a short special Summer Of HD series of posts based around the show.  The first two parts are here and here.  This is the last of this set.
Episode nine of the ten was 'zero day' for Kathryn's character Charlotte Burgess.  She'd enacted punishment on Maddie (Amanda Righetti, The Mentalist) for a perceived breaking of her rules regarding certain… things… involving Mr Burgess.  Maddie's smart though and cleverly gets herself back on Charlotte's good side, whilst simultaneously setting the scene for bringing her down a peg or twenty.
It did not end well for Charlotte, not that we know exactly what happened so the door is still open for her return come season 2 next year.  It was Kathryn's last appearance in the season.
So, we need to make the most of the 129 new Full HD (1080p) screencaps now added to the Gallery.