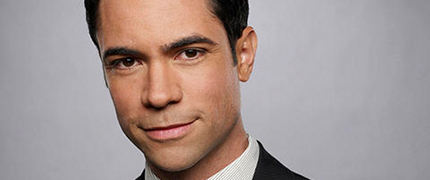 It's the last day of the month so it must be time for the traditional latest edition of KM UK's Cold Case Cast Catch-up.  Let us see what the key members of the long running CBS police procedural have been getting up to.
What feels like an increasing part of that tradition seems to be the breaking of news that would fit right in not long after publication.  A few days after the CCCC-up for February it was announced that Danny Pino (Scotty Valens on CC) would be starting a recurring role on the ABC drama series Scandal.  Normally at this time of year talk about additions to show casts would be more likely to be in reference to changes for the new seasons starting in the autumn.  Not this time.  Danny made his Scandal début last Thursday night (March 24th) on episode 15 of the 20+ run as Alejandro 'Alex' Vargas.  He's a campaign manager and brother of an existing recurring character played by Ricardo Chavira (Desperate Housewives).  Alex offered the lead character Olivia (Kerry Washington, Boston Legal) a tit-for-tat-for-tattle deal.  It is not known at this stage how many more episodes Danny/Alex will be in.
Presumably Danny can't spend too long on Scandal as his new show, this time for the CBS network (Cold Case's old home), is in production.  BrainDead, first talked about on KM UK at the end of last year, has had a première date announced.  Those with access to an American television should be in front of it on Monday the 13th of June at 10pm.  BrainDead is a comedy drama set in the world of Washington, D.C. politics where many of the staff and congress members have become zombies thanks to alien visitors.  The 13 episode-long series stars Mary Elizabeth Winstead (10 Cloverfield Lane) and Tony Shalhoub (Monk) amongst others.
Tracie is the one we'd normally describe as the workaholic of the group but we can add Jeremy Ratchford (Nick Vera on CC) to the list this month.  Jeremy did a guest starring role on the Comedy Central sitcom Workaholics earlier in March.  The show is about a group of friends that live together and also work together in telemarketing.  This particular episode (number 9 in the 6th season) involved the boys setting up a casino in their house.  Jeremy is listed as 'Frank'.
Unbelievably it has been the best part of a year since I last made mention of Thom Barry (Will Jeffries on CC).  And this is a return to the topic at hand back then.  The Eddie Murphy-starring movie that was originally known as Cook and then changed to Henry Joseph Church has now become Mr Church.  It is set to be shown at the Tribeca Film Festival in April and heading for a more general release in November.  Eddie is the titular character who becomes the cook for a family.  The planned short term arrangement lasts much, much longer.  Britt Robertson (Under The Dome) and Natascha McElhone (The Truman Show) co-star.
A couple of previously unmentioned projects have cropped up for Tracie Thoms (Kat Miller in CC) since the last CCCC-up.  First is Raven's Watch, a thriller due for a festival showing in October.  There's not much more to add at the moment other than Erin Cahill (Saving Grace), Denise Crosby (Star Trek: TNG) and Kevin Daniels (Modern Family) star.  Second is a short comedy drama film called Divorce: The Greatest Hits.  It stars Kaili Vernoff (The High Life), Jay Harrington (Better Off Ted), Kevin Daniels (him again? sensing a theme here?), and the voice of Holland Taylor (Two And A Half Men).  I could tell you about the story but why don't I just show you as the whole film is watchable on Vimeo HERE (a bit NSFW).  Tracie appears about 12 minutes in.  Awkward!
That will do us for this month.  Be sure to check out the showbiz news sites in the next few hours and days because, based on recent form, something major will be announced for one of our favourites 😐