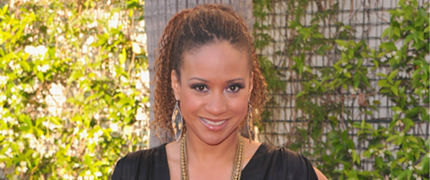 Squeaking in at the last minute again it's June's CCCC-up, the monthly post where KM UK looks at the continuing work of the Cold Case cast members that aren't Kathryn.
I try to be a gentleman and always allow ladies to go first, but with the CCCC-up that would mean Tracie Thoms (Kat Miller on CC) would be leading the way every month so I try to let each have a turn.  This time we'll give Tracie her go at the top.  In March I posted about the Fun Size Horror short films done for various websites for Halloween 2014 getting a DVD/VOD release in May.  At the time I mentioned that plans were in hand for a new set of similarly scary fare for this year.  Would you Adam & Eve it, a couple of weeks ago Tracie completed filming on a segment which will no doubt be released at the appropriate time in the autumn.  Before completing that project Tracie was involved in the filming of a new webseries called Dinner At Lola.  People from the 'business that is show' discuss the 'business that is show' over dinner (without the show).
One of our less frequent stars of the CCCC-ups is the gentle giant that is Mr Thom Barry (Will Jeffries on CC).  Thom recently wrapped on a new movie called Henry Joseph Church, not to be confused with another film Thom is in called Richard Peter Johnson (which seems to be stuck in post-production hell).  HJC, previously known as Cook, stars Eddie Murphy (Bowfinger) and Natascha McElhone (Californication) amongst others.  Eddie is a cook.  A young girl and her mother some how 'inherit' said cook.  The director, Bruce Beresford, previously made Driving Miss Daisy, which may give us an idea of the tone.  Thom is credited as 'Frankie Twiggs', who sounds like a 50s gangster from the east end of London.  No further info at this time.
Veena Sud is a name that most of you will recognise.  Occasionally I stretch the third 'C' in CCCC-up to include a few other key people involved with CC.  Veena was a writer and producer on Cold Case across several seasons and she went on to do the same for the American version of the drama The Killing.  There is no news on the actual project yet, but Veena has, in the last few days, signed a development deal with Fox 21 TV Studios to create new a drama for cable television.