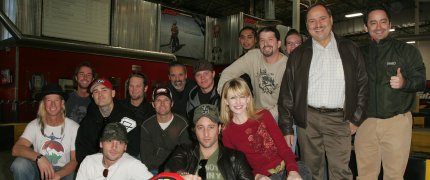 I[t] coulda been a contender!

KM UK's 2015 Advent Calendar is themed around the Where's Wally/Waldo? book idea.  Each daily image is of Kathryn in one of her minor film roles and (sort of) obscured in the picture.  If public appearance photos had been included I could have used the one above.  OK, she's not exactly hidden but she's not the only one with long blonde hair in it either

Every so often I like to revisit an old public appearance with an update of new or improved photos.  If possible I make them date appropriate.  This celebrity karting event in aid of the Marine Toys For Tots Foundation took place on December the 2nd in 2007.  Eight years and two days ago!
You can read more about the event in the last post about it in 2012 here.  In the meantime enjoy the three large images you can see around this article that have now been added to the Gallery.