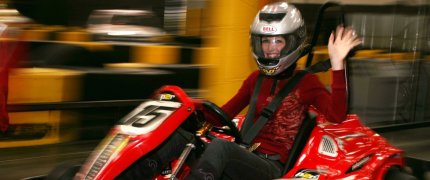 Celebrity Racing?  Sounds like a possible new reality TV format.  Get a bunch of Z-list celebs (bound to include one of the seemingly endless supply of Baldwins, Buseys and Kardashians), each desperate to revive a long-dead/start career, strap a saddle and reins to them and get members of the public to ride them around a course.  It'll be on your screens before you know it.  That's a very frightening thought.
But enough of that.  Instead, we return to our Gallery updates themed around things that dominated our A-List lady's public appearances in 2007: the Monte Carlo TV Festival, motor racing and promoting the movie Resurrecting The Champ.  This time we're back to the motor racing.
In 2007 Kathryn became an investor in the Pole Position Raceway indoor kart track in Murrieta, California which opened in August of that year.  In December the company held charity events at each of their four sites to raise money for underprivileged children through the Marine Toys For Tots Foundation.  Kathryn attended the one at the Corona, California kart facility.
Just added to the Gallery are 16 photos (various sizes and qualities, several in larger sizes than seen before) of Kathryn taking part.
I must thank Debbie at Pole Position Raceway for her help and photos.