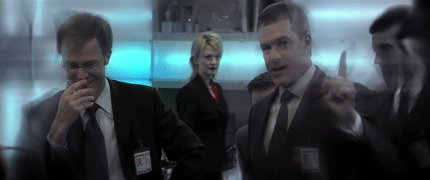 For the past six years the BBC here in England have broadcast Paycheck every 15 months or so, meaning that we are well over due a showing since it was last on back in August of 2011.
Auntie Beeb is finally putting us out of our misery with a late showing on Friday (12th April 2013) at 23:55.  Despite the hour you can still watch Kathryn's appearance in the John Woo (who also made Broken Arrow) action film, based on a short story by Philip K Dick and starring Ben Affleck (Argo), and be in bed by 12:10am.
Details of the BBC1/BBC1 HD broadcast can be found on the BBC's website.
Paycheck already features in the KM UK Gallery and you can read a brief write-up of Kathryn's role in the film in a previous post.
We haven't used the countdown timer in a while so here is one to the start of the film: