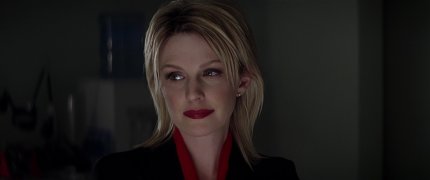 10 minutes in and we're Dunne.  Rita Dunne that is.  That's all we get of Kathryn, starring as Rita, in the sci-fi movie Paycheck, which stars Ben Affleck, as Jennings, and Uma Thurman.
Well, when I say "that's all we get"… we actually get quite a lot more than we might have bargained for in that brief time.  The rest of movie is very mediocre but that first 10 minutes is well worth watching.  Kathryn completely steals the show.
Rita initially appears to just be a corporate lawyer tasked with supplying Jennings with the facilities he requires to do the job he's been contracted to do to earn his paycheck (see what they've done there?).  The task is to reverse engineering (and it's a very backward view on such work) a rival's product so this company can make their own, better version.  Once completed Jennings will have his memory of this time wiped to protect him and the company.  Rita, however, has a plan of her own to leave an indelible mark on him.
She fails, but in spectacular fashion, leaving us, the movie viewing public, with some unforgettable scenes.  Rita Dunne gives us a whole new perspective on Kathryn, and what a delightful view it is  😉
New Full HD (1080p) screencaps and a video clip have been added to the Gallery.