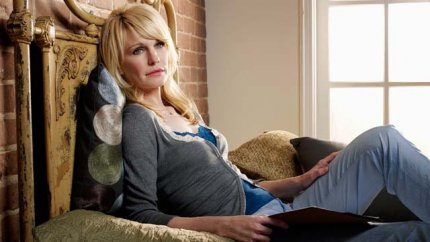 Nscha very kindly sent me this image.  We have no idea where it is from.  Can you identify it?
It is clearly Kathryn.  It looks like she is in Lilly mode.  It looks quite recent.  Possibly a promo shoot.  Or just a one-off for a magazine.
If you know can you let me know.  I'd love to see more or just this one much bigger if that is all there is.
Thanks.
Update: The photo appeared in the November 2009 edition of CBS Watch! magazine thereby confirming its approximate age and that is a photoshoot of Kathryn, as Lilly, promoting Cold Case.  The image is, at least for now, on this page here.  If you have more details, or better yet scans of the magazine, please Contact me.  The Gallery has been updated with the above image.  Thanks to ciara for spotting this and letting us know.
Update 2: On the same CBS Watch! website IcyWinter has found a small interview with Kathryn from last July somewhat buried away.  You can read it here, I'll paste a copy after the jump.  It is further evidence of the sensible attitudes Kathryn has to life.
---
Get Outside

Michele Shapiro

July 21st, 2009

With longer days, now's the time to move your workout outdoors, whether you join a sports league, or like Cold Case's Kathryn Morris, brush up on your serve.

For years, Kathryn Morris has gotten down and dirty playing Detective Lilly Rush on Cold Case. During that time, she's also managed to solve the mystery of how to look (and feel) her best by adopting a healthy attitude about diet and exercise. Below are a few of her can't miss tips.

Keep It Fun:

"I work out two to three days a week. I try to run around the hills in my neighborhood. I mix that up with some yoga and Pilates, and I also try to do something totally different or fun—like I just started playing tennis because I had never tried that before and it's a great way to take your concentration to another level."

Feed Your Cravings:

"I trust my body. If I wake up and think I'm supposed to have some pomegranate juice, scrambled eggs and one piece of bacon, I'll eat it because it's what my body's asking me for. I don't overly obsess about things. If I want a cookie, I'll eat it; I just won't eat a bunch of them."

Take Your Vitamins:

"I take multis, and a lot of antioxidants. Fish oils and omega-3s are great for body function, skin, hair and concentration. I eat foods with those nutrients as well."

Find a Fitness Role Model:

"I got to meet Martina Navratilova, the tennis legend, recently. She gave me her book, Shape Your Self: My 6-Step Diet and Fitness Plan to Achieve the Best Shape of Your Life ($18.45; amazon.com). It shows how she lives, how she eats, how she performs—and I saw how well she takes care of herself. It was a really nice experience to get to know her."