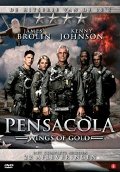 Every so often I search for older shows of Kathryn's appearing on DVD just in case anything new turns up.  I certainly didn't expect a European DVD boxset release of Pensacola: Wings Of Gold to appear.  You can find it here on the Amazon UK site.  I don't know how long it has been there, it can't be very long.  I did have my doubts about it, but it's true, this really is season 1 of P:WOG.
All the images and actor names on the box suggest that it is season 2 or 3, the ones without Kathryn.  However, it does say "Seizoen 1" on the spine of the case.  Yes, this has been put together by a Dutch company, a fact reflected in all the text on the box being in Dutch and the presence of Dutch subtitles, but the soundtracks are in English.  Being European the DVDs are set to Region 2 so the discs are only playable in compatible European DVD players.  Sadly there are no extras, just the 22 episodes.  Make sure you buy a copy immediately.
P:WOG is an action drama series from the 1990s starring James Brolin as Lt. Col. Bill Kelly, a veteran Marine put in charge of a small squad of elite soldiers that take on special missions.  Season 1 saw Kathryn star as Lt. Annalisa Lindstrom, the helicopter pilot extraordinare of the team.
Screencaps from each episode can already be found in the Gallery.  I hope to replace these with new improved versions in the near future.  Previous P:WOG posts can be found here.