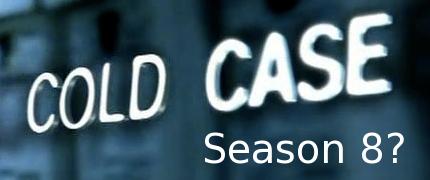 No!
It has finally been announced, though not quite officially by CBS, that Cold Case will not be renewed for another season.  Unfortunately it comes as no great shock, but that doesn't make it any less disappointing to hear.
Jonathan Littman, an executive producer on many Bruckheimer shows, sent this Tweet earlier:
Rainy day brings gloomy news with COLD CASE and MIAMI MEDICAL not being renewed. A great run on one and a way too short run on the other. – Link
With CBS picking up 4 new drama series yesterday (Hawaii 5-0, Defenders, Blue Bloods and a Criminal Minds spin-off) something had to go to make room.
Let me reiterate what I said in my earlier piece about Cold Case past, present and future:  Thank you to all involved in making 7 seasons of a great show.  Best wishes for the future to everyone.
Update: Jeremy Ratchford (Nick Vera on Cold Case) has posted a comment on IMDb thanking all the fans for watching these past 7 seasons.  You can read it here.
Update 2: CBS have announced their fall schedule.  Cold Case is not on it.  See here and here.