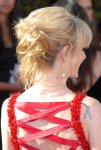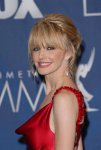 What a week!  To pull a cliché out of the hat: it's been a real roller coaster ride.
Let's see if we can finish off with something nice.  A bit of nostalgia with absolutely no need for rose-tinted glasses.  Kathryn supplies all the red we need.
It has been a few weeks since we last did a post like this but rest assured that we have not forgotten our Gallery updates of Kathryn's public appearances in 2007.  There's still plenty to come from what was a very busy year for our favourite lady.
Before we move onto other events in coming weeks we will have one final (for now) look back at the huge event that is the Primetime Emmy Awards from that year.
We have 21 more images of Kathryn looking stunning in a long red dress.  15 on the red carpet and 6 in the press room of the major TV awards event.