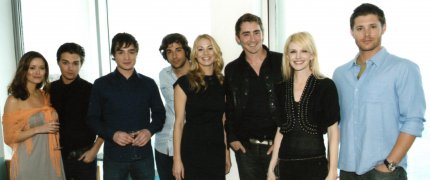 Yes, I know, it doesn't quite live up to billing

Let's get the list out the way right now.  Left to right we have:  Summer Glau and Thomas Dekker (Terminator: The Sarah Connor Chronicles), Ed Westwick (Gossip Girl), Zachary Levi and Yvonne Strahovski (Chuck), Kathryn, and Jensen Ackles (Supernatural).  Only one of those shows is still going today.
Nostalgia time.  The beginning of 2008 was the time of the writers strike in Hollywood.  TV and movie production was widely shut down.  With the "talent" not able to work a bunch of them were shipped off to Australia by Warner Bros. to promote their shows in the Australasia markets, not for the other reason.
On the 12th of Feb 2008 the stars took a break from interviews at the Icebergs Dining Room & Bar on the south-west tip of Bondi Beach in New South Wales, Australia.  Apparently it is one of the best "nosheries" in Sydney.
Kathryn spent several days in Sydney doing promotional work for Cold Case.  Some great photos from two more events were covered here on KM UK back in September 2010 in an image upgrade.
Photos of Kathryn arriving at Icebergs and the group shot above can now be found in the KM UK the Gallery.  Yes Bruce, she is a right bonza Sheila 😉
Thanks to the Summer Glau Wiki for allowing KM UK to have the group photo.