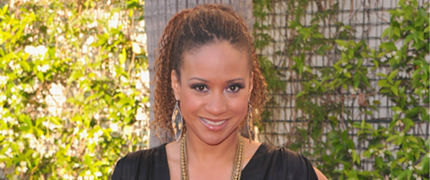 Things are still relatively quiet on the news front regarding the other members of the cast of Cold Case.  Like the month itself February 2015's CCCC-up will be short and cold… I mean sweet.
Luckily for us Tracie Thoms (Kat Miller on CC) is always busy.  Back in the October 2014 CCCC-up we brought you news of a web series that Tracie was due to start working on.  At the time Send Me was seeking funding via Indiegogo.  Over a couple of weeks at the beginning of this month principal photography (that's filming to you and me) took place on the project about Gwen (Tracie) who has the power to send people back in time.  Gwen uses this ability to teach individuals about slavery in the US by transporting them to the 1800s to witness it first-hand.  As well as Ms. Thoms the show has a starry cast:  Gabrielle Carteris (90210), Jerrika Hinton (Grey's Anatomy), Jasika Nicole (Fringe), Ahmed Best (Dexter), Kevin Daniels (Sirens), and Steve Harper (Chico & Rita) are amongst them.  Steve also wrote and produced Send Me.  The crew will be deep into post-production now.  Hopefully, in the next CCCC-up, due at the end of March, we'll know more about the release plans.
Over a couple of CCCC-ups last year (starting in June) I covered the news that big Thom Barry was signed to guest star in the TNT drama series Perception, led by Eric McCormack (Trust Me) and Rachael Leigh Cook (Antitrust).  Thom was said to be appearing as an FBI field office boss.  Subsequent CCCC-ups noted Thoms absence as the season progressed.  Having just returned from the mid-run hiatus there are now only 4 episodes left of the entire series.  Fingers crossed.  On a related note:  congratulations to Rachael and her husband on the news they are expecting their second child later this year.