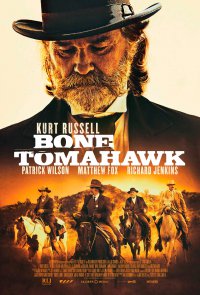 It was bound to happen.
It had to happen.
It really did.
Just ahead of the Bone Tomahawk showing at the BFI Film Festival, a month before the screening in the Abertoir event, and way ahead of the December general release of the movie in this part of the world, the UK rating organisation the BBFC has rendered its verdict.
Without the rating it is unlikely the film could be shown.  It would require specific approval from the local council for a cinema to show it.
The film has been given the 18 rating, meaning, not surprisingly, that only those 18 years of age and older can legally watch it.
The brief reason given is, not surprisingly given the subject matter:
You can read more details of the content that lead to that decision on the BBFC website HERE.  I don't think the text is particularly spoiler-laden, but you have been warned.
The UK December 11th release date, predicted here on KM UK back in September, has been confirmed recently.