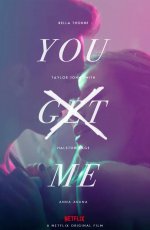 Awesomeness Films, the production company behind the thriller teen drama You Get Me, has announced a movie deal with the subscription streaming service Netflix.
Not to blow our own trumpet too much but back in February here on KM UK we noted that the Bella Thorne-starrer was headed in that direction.
The only logical conclusion to draw from that piece of information was that it was likely to be released exclusively on the online only network.  Why else would Netflix put its name to it?
Now the deal has been confirmed we can finally put an actual date on when the film will be available to all subscribers:  16th June 2017.
What we still don't know at this point is the part Kathryn plays in this Fatal Attraction-style drama based amongst high-school students.  Or, for that matter the other adult character played by recent NCIS addition Jennifer Esposito.
Hopefully we'll know more soon as the mid-June release date approaches.