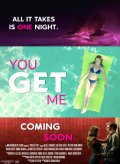 Another quick reminder, which this time I will actually try and make brief.  The last one sort of rambled on a bit too long, thereby completely missing the point of a quick reminder.  There I go again

The teen drama in no way like Fatal Attraction and starring Bella Thorne, Nash Grier, and Halston Sage that is You Get Me is released on the Internet video streaming service Netflix today (23rd June).  Who knows, Kathryn Morris may even be in it.
Maybe you've already watched it.  If you have then feel free to let us know what you think in a comment below.
The movie received it's première at the LA Film Festival earlier this week.  Some of the key cast were in attendance.  Kathryn, as far as we can tell, was not.