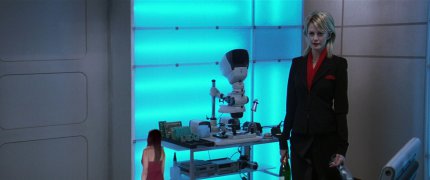 It's always nice when the paycheck arrives early

The past few times that the BBC has shown the John Woo sci-fi action drama Paycheck it has been after a gap of around two years.  Xmas comes early on Thursday (21st Aug) as it has been only a little over one year since the last broadcast.  Whoo-hoo!  Or should that be Woo-hoo! 

Auntie Beeb has been extra kind to us as they are also showing the film at the slightly earlier time of 23:35, which (as I always say) means you can see Kathryn's memorably forgettable (or is it forgettably memorable?) performance and be done well before midnight.  She's only in the opening section, but it is 10 minutes worth watching.  Those in Northern Ireland will have to wait until later on Friday night.  The BBC's website has details of the broadcast.
Leading man Ben Affleck (Pearl Harbor) was earlier this year controversially announced as being the new Batman, with the first film with him in that role due for release in the summer of 2016.  By then it will be nearly 20 years since Ben and his writing/acting partner Matt Damon worked with the recently departed Robin Williams in Good Will Hunting.  Robin won a Support Acting Oscar and the boys won a Screenplay Oscar for that one.
Not surprisingly Paycheck already features strongly in the KM UK Gallery with a comprehensive set of HD screencaps.  A more detailed description of Kathryn's role in the film can be found in an earlier post here.
Just in case you have your memory wiped between now and the start of Paycheck (add 24.5 hours if you are in Northern Ireland) here is a countdown timer to remind you: