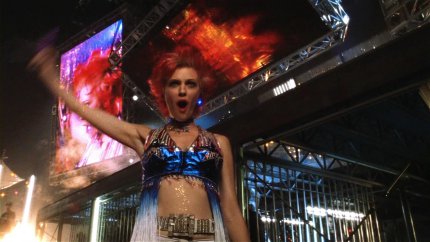 In case the image above hasn't done it already…  Gentlemen, start your engines!
Bit of a late catch on this one.
Sunday 5th of July 2009, BBC1, 10.25pm.  Details on the BBC's website here.
Kathryn in a very brief appearance, totalling less than 20 seconds of screen time in the middle of the film, as the interestingly named Teenage Honey.  Well quite!  Not exactly a teenager, but definitely a honey.  Nothing artificial and plenty of intelligence too 😉
Screencaps and a video clip from the movie can be found in the Gallery.
Kathryn's Stars & Stripes top is a nice reminder of today's date, so let me wish all our American cousins a happy 4th of July.  And thank you for Kathryn.