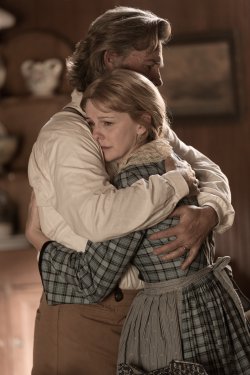 It has been a while since we heard anything about the upcoming horror Western movie Bone Tomahawk.
May saw the release of the poster.
A month ago the writer/director S. Craig Zahler responded to a comment on IMDb to say the film was finished having gone through seven months of post production.  He added that we should "[l]ook for announcements in the near future regarding the release and premiere."
Remarkably little news has been forthcoming considering the film stars the likes of Kurt Russell (Stargate), Matthew Fox (Lost), Patrick Wilson (A Gifted Man), Lili Simmons (Banshee), Sean Young (Blade Runner), David Arquette (8 Legged Freaks), and Richard Jenkins (Six Feet Under).  And, with Quentin Tarantino's The Hateful Eight getting a lot of coverage at the recent ComicCon event, the Western is undergoing something of a revival at the moment.
T
hing have, however, taken a turn for the Kathryn-flavoured better today as a few still photos of her as Lorna Hunt (wife of Kurt's Sheriff Hunt) have come into our possession.  Based on the film's period setting and what I've learnt about Kathryn's role she looks very much as I'd expected.
Find the three images (2 are very large) in the KM UK the Gallery.
Thanks to Fate 815 for the heads-up.
Update (26th July):  A fourth image (an on-set shot) has been added and the second still image has been upgraded to a much larger version.
Update (28th July):  The on set photo added in the previous update has been moved to an On Set album where it belongs.