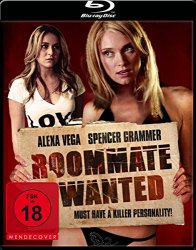 It's been a year.
A whole 12 months, almost to the day, has gone by since I last posted about Roommate Wanted (aka 2Br/1Ba).  That very post, my review of the movie, is here.
I have just discovered that Roommate Wanted has been released in Germany for home viewing.  Not only is it available on DVD, as it was in the USA, but also on the hi-def Blu-ray format too.
It looks like it started shipping at the beginning of this month (June 2016).  Despite what the image on the right suggests I believe the disc is rated with as acceptable for 16 year olds.  Check your local suppliers for details though.
As things stand at the time of writing the UK is still part of Europe and the whole continent, and Australasia, are part of the same region for DVDs and Blu-rays so cross border purchasing is viable.
Kathryn has a small role in the comedy drama about two room-mates (played by Alexa Vega and Spencer Grammer) who get into a more than a little disagreement about something.