This was not a subject I wanted to post about.  I do my best to be as generous and tolerant towards others as I can.  But there are limits to even my patience.
A person who some of you may know, who claims to be a fan of Kathryn (and can't seem to write the word "fan" without putting the word "fierce" in front of it) runs a Facebook Page dedicated to her.  You may have seen it, 'Liked' it, or even left a comment.  She's called Lisa.  I'm not going to give a link to the page, frankly she doesn't deserve it.
It has been obvious to me for a while that Lisa has been posting pictures taken from this site on her Facebook page.  The images are often the ones I use as banners for the individual posts.  The size, shape and cropping which makes them unique to this site gives the game away completely.
Back in June I challenged Lisa over this via Twitter.  She did not respond to me directly but left the following message on Facebook a short while later:
To all of you, good Kathryn's fans!!! I want to be clear: this fb fan page don't steal info, photos, pictures, links, sites from other fan pages; this fb fan page don't plagiarize from others; its directors are honest and sincere doing their great job in a really right way to update this fb fan page as the best they can every day always searching, finding and being informed; this fb fan page and its directors will never plagiarize!!! By The Directors
It's a lie.
Let me make it clear that I am not claiming ownership of the images.  What I am stating is that it is the policy of this site to not take images from other fan sites and post them here.  If all the fan sites just copied images from each other then they'd all be the same.  According to Lisa's comment she feels the same way.  The evidence shows otherwise.
Lisa can't make those bold claims stand-up when you see this image, which I created especially for this post, included on her Facebook page.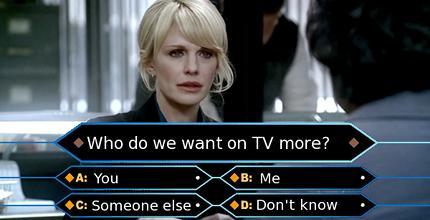 That is just one of a great many examples.  Lisa has also posted fan art created by some you just for this site, without giving you any credit.
In the past week I have tried contacting Lisa again via Twitter.  She's ignored me.  Yesterday I left comments on a lot of the images she has taken from this site saying where they came from.  Those comments have been removed and I am unable to leave further comments.  Make of that what you will.
Lisa might be "fierce", but "honest" she is not.
RichE.