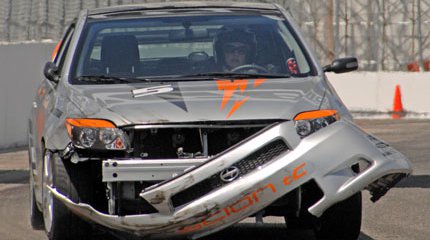 Oops!  I'm sure that'll polish right out!  😯
That was from the practise day so no worries.
Three weeks after the training it was race day.  On this day (14th Apr) in 2007 (it was a Sunday that year) Kathryn took part in the Toyota Pro/Celebrity race in aid of the Racing For Kids charity that supports local children's hospitals.  Last year we brought you a photo of Kathryn and George Lucas visiting one of those hospitals that receives funding a few days before the race.
As well are four more photos from the weekend we have two videos.  One is from the practise day.  The second a longish highlights show covering the race.  Kathryn features multiple times in both videos so try and watch them all the way through.  Find it all in the KM UK Gallery.
Thanks to Jan Wagner at the Automatters website for allowing KM UK to post their photos.
In the race Kathryn finished a creditable 13th out of the 17 taking part.  Not bad on her first ever race.  Dave Mirra (BMX racer) won outright despite coming up through the field from 30 seconds behind with the other Pros Bucky Lasek (X Games winner) and Scott Kelly (drag racer).  Tennis legend and returnee to the event, Martina Navratilova, was 2nd (1st celeb) and Joshua Morrow (The Young And The Restless) was third.  George Lucas continued to disappoint in spectacular fashion by crashing out and taking innocent victim Annamarie Dean (charity fund raiser) with him.  Kathryn and Emily Proctor (CSI: Miami) weren't able to put the first part of their evil plan into play.  We don't know if the managed the second part.  Watch the video to find out more.
The 2014 version of the event happened yesterday (13th April) and was won by returnee Brett Davern, who finished 2nd last year.  Brett will be known to Cold Case viewers as Lilly Rush's half-brother Finn Cooper.  Currently Brett can be seen in the TV show Awkward. (with a full-stop).