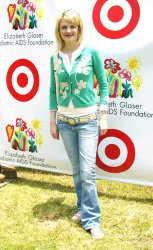 The title of this occasion (or at least part of if) seemed a fitting follow-on from the anniversary marked yesterday of the 9/11 tragedies.  We should not forget that events like those are not just about those lost, but those that acted heroically in putting others first.
Of course, this particular charitable event we are looking at today was not about that day in September 2001.
'Elizabeth Glaser Pediatric AIDS Foundation A Time For Heroes Celebrity Carnival' is an annual event to raise funding and awareness for the cause of HIV and AIDS in children, focusing mainly on Africa and India.  Founder Elizabeth Glaser herself contracted HIV during a blood transfusion and unknowingly passed it on to her children.  Discovering that the then current treatments were solely aimed at adults drove her to set up the Pediatric AIDS Foundation.  Elizabeth spent the rest of her life advocating for the issue.
You can read more about the Elizabeth Glaser Pediatric AIDS Foundation on their website HERE.
Back in June of 2005 Kathryn attended the Time For Heroes event.  Formal attire was clearly not required

  Not that Kathryn looked anything other than gorgeous in her more casual jeans, t-shirt, cardy and sneakers 😉
This is one that has been missing from the KM Gallery since its inception.  We'll put that right today in some style with a small collection of photos and a couple of videos now in the Gallery.