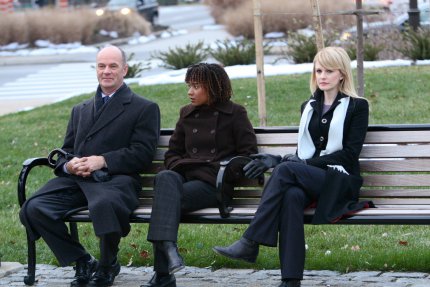 Well hello to 'The Goodbye Room'.  Sorry we didn't get here on time, again.  Blame the Olympics, old age, solar winds, whatever.
A quick update with some more promo photos from an episode of Cold Case that first aired (just over) 15 years ago.  4th of March 2007 in this instance.
Today's 'new' photos all focus around a particular scene with three of our leads in a park in the winter.  First up we have a trio of moderately sized promo photos. Then there is a small behind-the-scenes image showing the camera and lighting setups required for a simple walking and talking shot.
You can now find these images in the KM UK Gallery.