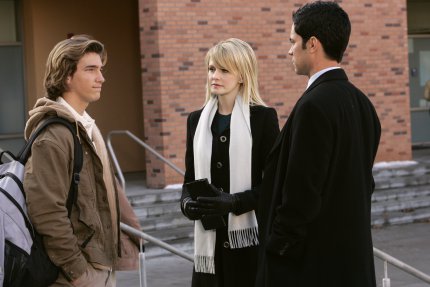 Instead of 8:03, we should title this one 15:03.  This latest addition in our '15 years on' series would have been posted last Friday but we had more important things to post about then.  Making this 15 years and 3 days on.
On the 2007 edition of Kathryn's birthday, this 14th episode of Cold Case series 4 was first aired in the United States.
'8:03am' was one of those with a single artist supplying the sound track.  In this case it was U2, who seem to have been in the news a bit recently for some reason I've not engaged with. The 8:03am of the title refers, not too surprisingly, to the time the two victims died. Kat Miller (Tracie Thoms) was one of the first people on the scene so solving this one was a little more personal that some others.
3 new large-sized and high quality promo photos from '8:03am are now in the KM UK Gallery.