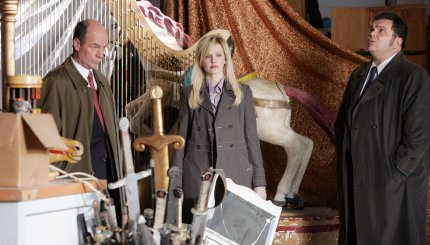 Willkommen to a new post on KM UK.  I what is increasingly inaccurately called 'a slightly different one this week' we have a new set of high quality, large sized promo photos, rather than new HD screencaps.  Today marks the 15th birthday of this 18th episode of Cold Case season 3 first aired in 2006.
Will is absent from these images so I guess he is not so… kommen.  I'll get my coat.
Actors often talk of dying on stage and the superstitions around the theatre (not saying the name of the 'Scottish play' etc.).  This episode is not going to help with either anxiety, when the squad open a then 4-year old case about the death of an amateur actor.
As you can see around this article there are 4 new photos from this episode now in the Gallery.  Can I just add one last thing: Perfectly Marvelous.