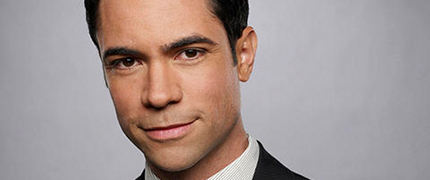 I know, I know.  But, let's face it, February is such a short month that it hardly even counts as a month.  Nothing happens in February.  You missed nothing

Welcome to the second (cough) Cold Case Catch-up post of 2021.  This is obviously about Kathryn and her career, but Cold Case was (almost) as much about the other characters as it was about Lilly Rush.  In this (normally) monthly posts we look at the on-going careers of her fellow actors of the show.
The continuing global situation is still being felt across the entertainment industry.  Even TV shows that are being made are having to reduce episode counts due to more complicated production schedules.  Hopefully the corner is being turned so that across the summer things can get closer to normal ahead of the autumn/fall season.
Let's start with our banner image star for March: Danny Pino (Scotty Valens in CC).  A couple of weeks ago the FX network drama Mayans M.C. return to US televisions after a somewhat forced absence.  This is the third season of the spin-off from the often acclaimed Sons Of Anarchy.  Mayans M.C. is not a show I watch, but from something I read somewhere a while ago, I was under the impression that Danny would not be returning, based on his character's actions, not his.  How wrong I was.  The fourth episode aired last night (30th March) and the remain 6 will continue until mid-May.  In the UK, previous seasons of Mayans M.C. have been shown by the BBC, often in pairs late on Sunday nights.  I presume this will be repeated for the new one at some point in the future.  Both the first two seasons are available on the BBC iPlayer.
Regulars to these posts will know that we are never far from Tracie Thoms (Kat Millar on CC) news.  She pretty much single-handedly keeps this segment going.  If she ever takes a break from showbiz there'll be nothing to watch.  In early March, Ms. Thoms, brought her character of Karen Wilson back to the cross-emergency service drama series 9-1-1, over on the Fox network.  Karen is the partner of one of the main characters, played by Aisha Hinds (Under The Dome), so is usually peripheral to the main stories lines but she regularly crops up.
Clearly Tracie is very much into saying yes at every opportunity that arises.  She did so for the Netflix movie Yes Day, starring Jennifer Garner (Alias), which was release a few weeks ago.  Jennifer took advantage of being stuck at home to be able to Zoom/Skype/Teams call into nearly every chat show in the world to promote this family friendly fare.  Apparently some people do this Yes Day thing, where they (within legal bounds) only say yes to their kids for the day.  Madness.  Tracie has a small role as 'Billie', a 'concert co-ordinator'.
Not sure if I missed this previously but I see that Tracie is listed as being in a new film called Bolivar. It is described as currently being in post-production, meaning it has been filmed and is now being edited etc. prior to a release.  As we've seen, this can often be a lengthy period, with many films never seeing the light of day.  Nell Teare, who has done a lot of bit-part acting and a lot of writing/directing/producing work as well, stars as a woman dealing with the loss of her mother.  One to keep an eye on.