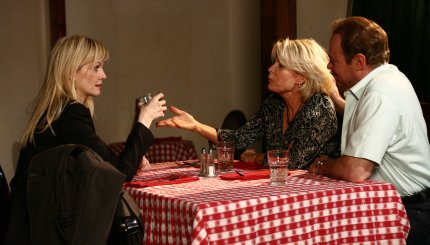 Beautiful Little Fool?  Beautiful Little Fool!?!  How dare you!  Beautiful? Very much so.  Little?  She is quite petite.  But, sir, I draw the line at fool! 

Early in Cold Case history it was hinted that Lilly had her issues with alcohol.  Rush was, perhaps, a lush.  She'd managed to stay away from it for a while before we got to know her.  Few things could make her partake in the booze.  Her mother is one of those exceptions.  The irony, if that's right, is that Ellen Rush has had even worse issues with drinking and has not dealt with them as well as her daughter.  The much loved Meredith Baxter (Family Ties) made her first of four Cold Case appearances as Lilly's mother in this one.  Meredith herself had alcoholism earlier in life.
Alongside the Rush family dramas, the episode's case involves one of its oldest.  The 1929 death of a woman on Xmas Day of that year.  'Beautiful Little Fool' aired for the 1st time 15 years ago today.
Like last week, there are no new screencaps from this episode, as there are already a full suite of them in the Gallery.  Instead we have two new, large, and high quality promo photos to bring to you.  As you can see, they both involve the awkward meeting of Lilly and her impending new step-father.