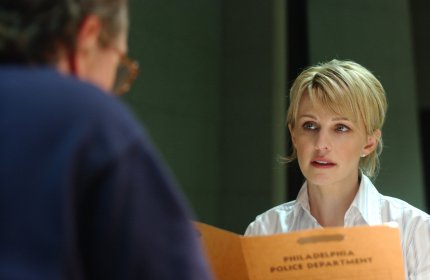 But he's such a good man, if a little grumpy, in that other show he did!
John Billingsley stars in the role he's second best known for after Enterprise (the Star Trek prequel show), and True Blood, and 24…  He's been in pretty much everything.
In Cold Case episode 'Mind Hunters', number 9 of season 2, which first aired in late November 2004, John plays George Marks.  George is a serial killer.  Or is he?  Yes he is.  He works for the police department.  Or does he?  Yes he does.  It's been 15 years people.  I think we're past spoiler warnings.
George is a special in Cold Case because he isn't arrested at the end, unlike most of the guilty parties Lilly and co. encounter.  He basically confesses.  Everyone knows he did it.  But they don't have enough to charge him.  Oh yeah, and Scotty is… erm… a new 'special friend' for Lilly's sister Christina.  Lilly is cock-a-hoop about that.
I get the feeling George will be coming back though in around 14 episodes time.  Just a hunch.  We'll be here posting more promo photos 15 years on from that date too.
6 new promo photos and 1 upgrade have now been added to the KM UK Gallery.