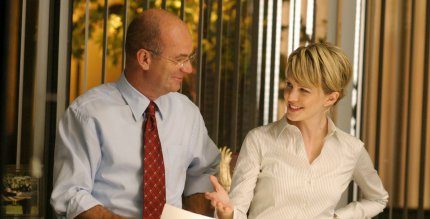 You would think that promotional photographs were supposed to help, you know, promote the episode by giving a feel for what will be in the episode.  Not this set.
Don't get me wrong, they are a great set of photos, Kathryn is looking particularly luminous in them, but they are just of the team around the squad room.
KM UK's series of photo update posts looking back to Cold Case 15 years ago continues with 'It's Raining Men'.  This was episode 7 of season 2.  It first aired on the 14th of November 2004.  The aim to post on the same date didn't quite work out due forgetfulness on my part, but we are catching up with two posts per week.
The story involved the 1983 murder of an openly gay HIV-positive man campaigning to improve education of the disease within the community.  His partner approached the detectives asking them to re-investigate the crime.
9 promo photos are in the Gallery for this one.  8 are new and the existing one (the 1st in the set) has been given a very healthy upgrade.  It's positively glowing.