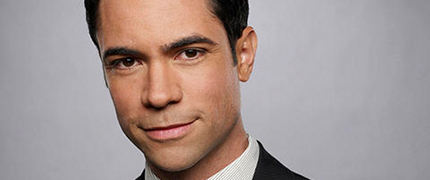 The senility is really kicking in these days!  That and real life getting in the way.
Time to catch-up with a Cold Case Cast Catch-up as I managed to miss the traditional end of the month post in November.  We can all pretend that instead of being a day short, that November 2019 has 32 days, right?  Great!  Let's look (a little further back) at the news of the other members of the Cold Case cast.
Waaaay back at the beginning of the (very long month of) November, just after the last episode of the run, it was confirmed that the FX network TV show Mayans M.C., which stars Danny Pino (Scotty Valens in CC) had been renewed for a third season.  Spin-offs don't often do as well as their originating show; Mayans M.C. is related to the 92-episode, seven season-long hit Sons Of Anarchy; but is this one is going strong.  No news on whether Danny will be involved, but I don't know of any reason why not at this stage.
John Finn (John Stillman in CC) got himself a guest starring role in one of the biggest TVs in the world at the moment that doesn't involve dragons.  It does involve royalty though.  A mid-month episode of Netflix's The Crown saw John as Arthur 'Bull' Hancock.  He was racehorse owner/breeder from America, who the Queen (now played by the amazing Olivia Colman) met whilst learning about horse training.
Fittingly enough in the middle of October (but not noticed by me until mid-November) a documentary called Somewhere In The Middle appeared on VOD platforms.  It is about those thousands of artists who don't become big names (like those we talk about here), but also don't leave the business known as show altogether.  They keep working at it as a day job, just as the rest of do.  The film focuses on 5 artists (actor, sculptor, painter and 2 musicians) and how they deal with is 'in the middle existence'.  How Tracie Thoms (Kat Miller in CC) fits into this I'm not sure, but I think is likely to be in footage of her working with actress Jasika Nicole on the website Send Me: An Original Web Series.  As we know Tracie's in everything so may it's just that

  Tracie continues to guest star in the drama series 9-1-1.  The latest episode is this very night, November 32nd (aka December 2nd).  As noted previously, the Apple TV+ drama Truth Be Told is due to 'drop' on the 6th of December.  See the previous CCCC-up posts for more details on that.
The next CCCC-up will hopefully be on time and will be a round up of the year's news.